We're pleased to welcome Annie Dills & Josh Cochran to our At Home with Literati series of virtual events for a special illustrator-to-illustrator conversation!
Click here to register for the webinar event on 11/21.
Note: we are now hosting on Zoom webinars. You will be prompted to enter a first name and email upon joining. You may see a window reading "waiting for host to start webinar," but sit tight--you will be admitted as soon as we begin broadcasting live! You will be able to submit questions using the Q&A feature.
Enjoying At Home with Literati? Donate $5 to sustain our programming here.
About The Lights and Types of Ships at Night: You may have heard of ships. You may have also heard of the sea and the night. But did you realize there's nothing more beautiful than a ship and its lights on the sea at night? In warm and witty prose, this picture book's narrator asks the reader to consider the splendor of glowing lights cast by ships on a shimmering waterway. Meet a trawler, a steamship, a RoRo, an exploratory vessel and more across richly illustrated pages, alive with the glowy, otherworldly nighttime scenes of boats as seen from a child's perspective.
About Drawing on Walls: This big, beautiful biography of Keith Haring includes illustrations that encapsulate the iconic American artist's work and life. Each page contains a few sentences, but all pages feature full-color artwork that mimics Haring's well-known murals. Cochran's visuals effectively capture the sense of movement and fluidity of Haring's work. The story begins with Haring's childhood and covers the origins of his interest in drawing. Burgess describes the struggle of being an artist in New York City in the 1980s and the city's art scene.
Annie Dills is an illustrator and designer from the Bay Area. When she's not working she's petting her large orange cat and then feverishly lint rolling her clothes.
Josh Cochran grew up in Taiwan and California. Based in Brooklyn, NY, he works as an artist and illustrator, often painting murals. In 2013, his work on Ben Kweller's Go Fly A Kite received a Grammy nomination for Best Limited Edition Packaging. He has a number of side projects, and sometimes exhibits his work in galleries. This marks his picture book debut.
Event date:
Saturday, November 21, 2020 - 2:00pm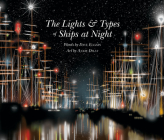 $18.99
ISBN: 9781952119071
Availability: Backordered
Published: McSweeney's - November 17th, 2020
---

$18.95
ISBN: 9781592702671
Availability: Backordered
Published: Enchanted Lion Books - May 19th, 2020
---