We're pleased to welcome Jehad al-Saftawi to discuss My Gaza as part of our At Home with Literati series.
Click here to join the event on 11/23.
Note: we are now hosting on Zoom webinars. You will be prompted to enter a first name and email upon joining. You'll enter the event when it begins and will be able to submit questions using the Q&A feature.
Enjoying At Home with Literati? Donate $5 to sustain our programming here.
About the book: My Gaza offers a startling perspective on contemporary Gaza. Photographer Jehad al-Saftawi documents his life there up until his escape, in 2016. His eye is drawn to moments of humanity and tenderness that redefine this place beyond propaganda, beyond prevailing narratives. Through vivid images and captions--a gun to the head, an interrogation, a family in strife--al-Saftawi exposes a situation that cannot withstand further escalation. Urgent and resolute, My Gaza is the first book of its kind, presenting photos of present-day Gaza by a Gazan journalist.
Jehad Saftawi is a documentary journalist, photographer, videographer with work featured on Reuters, BuzzFeed, AJ+, Mic, Aljazeera America, the Huffington Post and others. Currently, he's seeking asylum from Gaza and arrived in the U.S. in 2016. He is internationally recognized for setting up one of the few live streams during the 2014 Israeli "offensive" on Gaza, and dedicated to social justice and human rights storytelling.
Event date:
Monday, November 23, 2020 - 7:00pm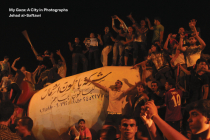 $35.00
ISBN: 9781944211974
Availability: In Stock at Publisher - Usually Available in 1-5 Days
Published: McSweeney's - November 17th, 2020
---