Monday, May 20, 2019 - 7:00pm
Literati is pleased to welcome Paul Vachon who will be sharing his new book Detroit: An Illustrated Timeline.
About Detroit: An Illustrated Timeline
Let's talk a walk a long walk, back over three centuries. At the dawn of the eighteenth century Detroit was established as simply an outpost for the French to take advantage of the fur trade while keeping the British at bay. Over the subsequent 300 plus years this small settlement advanced to become a regional hub of commerce, a focal point of nineteenth century industrial strength, and ultimately the nexus of the auto business--the industry that redefined mobility and in doing so changed the course of world history.
Detroit's long evolution occurred along an often rocky path, marked by a devastating fire, military conquests, conflicts with southern slave hunters, a burgeoning population, all while enduring persistent racial tensions and insurrection. As the Arsenal of Democracy the city proved essential to the allied victory in World War II; but the following decades proved ruinous. As the city bled people and resources, whole areas were decimated--yet nonetheless poised for a rousing comeback.
This book points out many of the seminal events and noteworthy turning points of Detroit's long journey, some little known: the city's fall to the British during the War of 1812, the existence of slavery in Detroit as late as the 1820s, and Mayor Hazen Pingree's aggressive advocacy for the everyday citizen against corporate interests.
Chapters devoted to the twentieth century highlight Detroit's underappreciated architectural heritage, the development of its notable cultural institutions, as well as the exploits of assorted scoundrels, such as the Black Legion, the Purple Gang, Harry Bennett and Father Charles Coughlin.
Triumphant sports teams, the contributions of religious leaders, and courage of civil rights leaders are all brought to life, completing this chronological sketch of America's city of the straits.
A lifelong resident of the Detroit area, Paul Vachon is an author, freelance writer and public speaker. He possesses a strong interest in Detroit history, and has written four previous books devoted to the subject. He's also written guidebooks on Michigan travel. Paul is a member of the American Society of Journalists and Authors. In his spare time, Paul enjoys traveling and nature photography. He also thinks having a map of the state on the back of his left hand is pretty cool.
Books: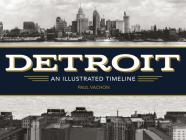 Email info@literatibookstore.com or call 734-585-5567 for price
ISBN: 9781681061801
Availability: Out of Print
Published: Reedy Press - May 1st, 2019
---