Friday, February 3, 2023 - 7:00pm
Literati is pleased to be the official bookseller for the Michigan Theater's celebration of Alice Cooper at 75, featuring a screening of Super Duper Alice Cooper.
Literati will be on site to sell copies of Gary Graff's Alice Cooper at 75, sold separately from the event tickets.
An Alice Cooper Evening on February 3, 2023, at the Michigan Theater (Screening Room) schedule:
7:00 PM Doors open
7:30 PM Discussion with author Gary Graff and Rob Reinhart (of WDET), about Graff's new book Alice Cooper at 75
8:00 PM SUPER DUPER ALICE COOPER (2014) screening
About Alice Cooper at 75:
Pythons, guillotines, stage blood…Alice Cooper is widely considered the godfather of shock rock thanks to his inventive concoction of vaudeville, horror film conceits, and three-chord rock 'n' roll. In Alice Cooper at 75, veteran rock journalist Gary Graff shows you this rock icon through the lens of 75 career accomplishments, events, and partnerships.
Through seven-and-a-half decades, Graff covers it all:
Cooper's childhood in Detroit and Arizona and early garage bands the Earwigs and the Spiders
All 28 studio albums, including those as front person of Alice Cooper the band
A selection of his greatest singles, like the classic-rock standards "I'm Eighteen," "School's Out," and "Welcome to My Nightmare"
Collaborations with artists including Slash, Dave Grohl, Johnny Depp, Wayne Kramer, and more
Associations with notable guitarists, including Glen Buxton, Nita Strauss, Orianthi, and others
Nonmusical passions like classic cars and, of course, golf
His relationship with wife and entertainment accomplice Sheryl
Tireless charity work
SUPER DUPER ALICE COOPER (2014) offers rare archival footage, animation, and interviews that illustrate the story of how Vincent Furnier, a preacher's son, became rock icon Alice Cooper.
Over the last 30+ years, Rob Reinhart has also owned a small ad agency and radio production company, written and produced syndicated comedy for radio, voiced thousands of radio and TV commercials, consulted movie, television and internet media projects, and continues to host the syndicated Acoustic Café radio show (heard in 120+ cities worldwide). Rob has also hosts various programs at Detroit Public Radio, WDET.
Gary Graff is an award-winning music journalist based in Detroit. He is a regular contributor to the Billboard, the Cleveland Plain Dealer, Media News Group, Ultimate Classic Rock, Consequence, and other publications, as well as to radio stations in Detroit and Milwaukee. He is the co-author of Neil Young: Long May You Run, Rock 'n' roll Myths: The True Stories Behind the Most Famous Legends, and Travelin' Man: On the Road and Behind the Scenes with Bob Seger, editor of The Ties That Bind: Bruce Springsteen A to E to Z, and the series editor of the MusicHound Essential Album Guides. He is also co-founder and co-producer of the Emmy Award-winning Detroit Music Awards. Graff lives in Beverly Hills, Michigan.
Event address:
603 E Liberty St
Michigan Theater
Books: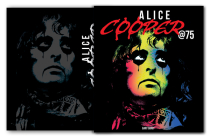 $75.00

ISBN: 9780760378274
Availability: Usually Available in 2-5 Days
Published: Motorbooks - January 31st, 2023
---